Cartridge Actuated Devices Inc
Back to Corporate Member Listing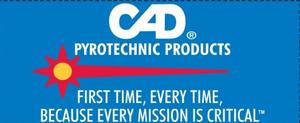 Cartridge Actuated Devices Inc
Fairfield, NJ 07004
United States
Corporate Representatives:
Patrick Goudie patrick.goudie@cartactdev.com
Brian Star brian.star@cartactdev.com
Website: www.cartactdev.com
Business Phone: 9735751312

Cartridge Actuated Devices, Inc. has over 50 years of experience in the field of custom pyrotechnic development. We design and manufacture energetic CAD/PAD devices including explosive squibs, pressure cartridges, valves, cable cutters, actuators, pin pullers, thrusters, explosive bolts, puncture devices, pneumatic actuation systems, underwater devices and oilfield products.
Announcement
Dear SAFE Community,
It is with great excitement that we are able to announce we will host our 59th Annual Symposium, in person in Mobile, Alabama!