FXC Corporation
Back to Corporate Member Listing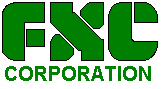 FXC Corporation
Costa Mesa, CA 92626
United States
Corporate Representatives:
Frank Velazquez frank.velazquez@fxcguardian.com
Rick Velazquez info@fxcguardian.com
Website: www.fxcguardian.com
Business Phone: (714) 556-7400
Business Fax: (714) 641-5093
Since our inception in 1973, FXC Corporation has been dedicated to the Research, Design, Development, and Production of Advanced Aerospace Systems and Components. Through a unique combination of experience, skilled personnel, innovative engineering, and sound organizational and functional management, we have become the World Leader in Automatic Parachute Release Systems.

We are singularly committed to producing for our customers a reliable, maintainable, superior performing product of the highest quality and supporting the product in the field.

In June 1976, Guardian Parachute was acquired. This growth strengthened our ability to better meet the broadening needs of our customers all over the world.

Pointing with pride to our past accomplishments and present environment of strong Management, Engineering, Production and Quality Assurance operating under MIL-Q 9858, FXC is gearing-up to meet its goals for the future.

As we continue to mature, expand, and diversify, we maintain sufficient flexibility to tailor our services and products to your specific needs, requirements, and specifications.

We look forward to the opportunity of serving you with our team.