Martin Baker Aircraft Co Ltd
Back to Corporate Member Listing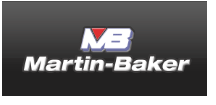 Martin Baker Aircraft Co Ltd
Middlesex,
England
United Kingdom
UB9 5AJ
Corporate Representatives:
Geoff Barnes enquiries@martin-baker.co.uk
Geoff Barnes enquiries@martin-baker.co.uk
Website: www.martin-baker.co.uk
Business Phone: (011) 448-9583

Martin-Baker is the world's leader in escape technology, being backed by over 60 years of continuous experience in the design and manufacture of ejection seats, which is unmatched by any other company in the safety aviation industry.

The Company was founded by Sir James Martin and Captain Valentine Baker as an aircraft manufacturer in 1929 and successfully developed five prototype fighter aircraft in response to several Ministry of Aircraft Production Air Staff Requirements which were issued to support the war effort. Since 1949, Martin-Baker has been solely dedicated to the design, development and supply of military aircraft escape systems.
Announcement
Dear SAFE Community,
It is with great excitement that we are able to announce we will host our 59th Annual Symposium, in person in Mobile, Alabama!